Huffing and puffing, we were returning from a back-breaking hike up to the 9th century Babak Castle when a man sitting cross-legged in front of his tent pulled us into conversation. Who are you? Where are you going? Typical Iranian curiosity. Soon though, it turned into something else. Rasoul Solaymani, a merchant from Maragheh, and his nephew Farzin, an engineer, doggedly beseeched us to join them for tea from their charcoal-powered samovar. Oh, come on, everything you're talking about can wait. Your car is fine where it's parked; it won't disappear. We have food; we have grapes; we have tokhmeh kadoo (salted pumpkin seeds); we have pastries. Come, come, come!
Farzin puffed and puffed into the lumps of charcoal dropped into the center of the samovar, till the water boiled. Something from the charcoal makes the tea taste special. Tea turned into a meal of Abgoosht cooked over fire and that turned into a overnight stay in their tent, followed with an unbelievably delicious omelet for breakfast.
That night, under the a starry sky and around a fire, Rasoul told us about hurting from unrequited love and why he might never marry. I told him how I was certain I would never marry and today I'm still a bit befuddled that I got married – and to an Iranian, of all people. Others camping nearby also joined in the conversation.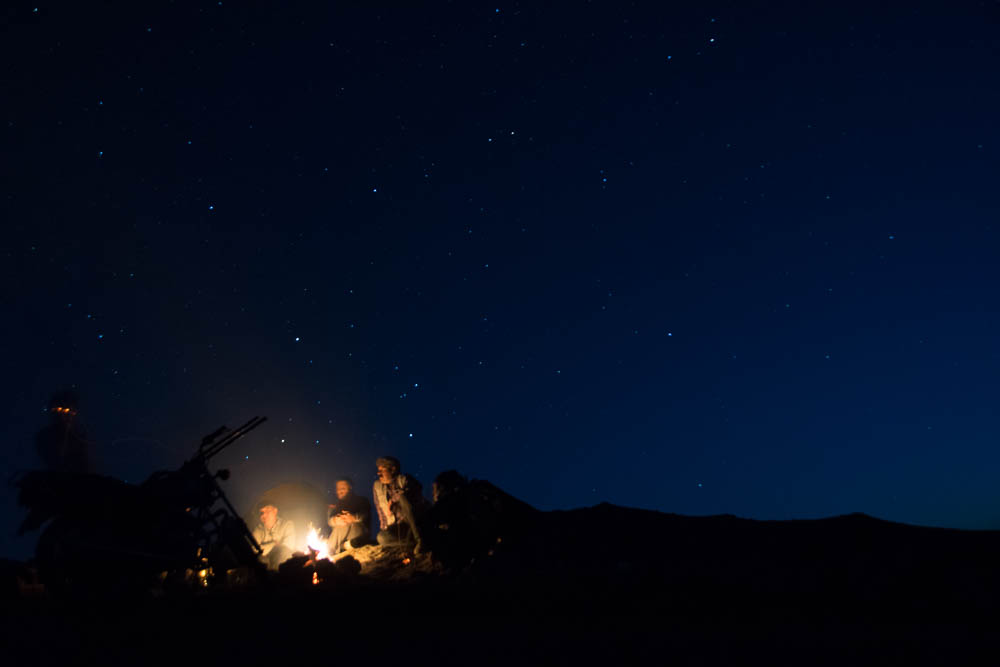 I've written before about how common it is to get invited to tea or a meal or even overnight stays by strangers in Iran (but only outside that hellhole called Tehran!). Nonetheless, as I look at the pictures of our time with Rasoul and Farzin, my eyes are a bit moist as I again marvel at Persians' unfailing talent for seducing visitors with genuine largess, no matter how strenuous the initial resistance.
Just now, I WhatsApped Rasoul apologizing for not staying in touch. He wrote back like the quintessential Persian, affectionately and poetically:
علی جان ما نون و نمک خوردیم ومثل برادر وسعیده عزیز عین خواهرمونه بخدا ماهم خاطره خوشی از شما داریم وهمیشه در قلب مایین

❤?
Translation: Ali jaan (dear Ali), we ate salt and bread with you, our brother, and with Saeideh, who is just like our sister. Swear to God we have a happy memory of you and you'll always be in our heart.